By lonyung |
21
November 2023 |
0
Bemerkungen
Linear Lights: Energy-Efficient Indoor Lighting Solutions
Are you looking for energy-efficient lighting solutions that can help elevate your home or office space? Look no further than linear lights! This article will show you why linear lights are a great choice for homes and offices, offering durable illumination, comfort while saving on energy costs. You can enjoy beautiful indoor lighting year-round with linear lights, helping to increase the value of your property and creating a cooler environment in which to work or relax at any time of day. We'll also share some tips for getting the most out of these energy-efficient lighting options. Read on to find out more about why you should opt for linear lights.
1. The Power of LED: Why Choose Linear Lights for Energy Savings
When it comes to illuminating your space, there are plenty of options to choose from. But if you're looking for an energy-saving solution that provides impressive brightness, LED linear lights are an excellent choice. Not only are they durable and long-lasting, but they also consume significantly less energy than traditional lighting options. LEDs are also versatile and can be used in various settings and applications, making them suitable for both residential and commercial purposes. With easy installation and customizable options, it's no wonder that LED linear lights are becoming increasingly popular in the world of lighting. So, why not make the switch to LED and experience the power of these remarkable lights for yourself?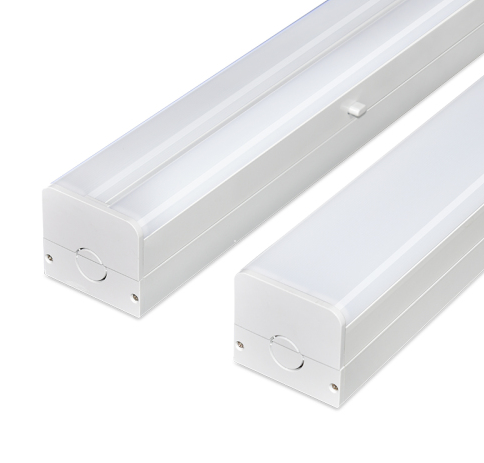 2. Lighting the Way: Advantages of Up to 140+ LPW Efficiency
Looking for a way to save on your energy bills while still providing bright and effective lighting? Look no further than up to 140+ LPW efficiency linear lights. Not only do these lights produce a high level of lumens, they also have a longer lifespan than traditional lighting options, meaning you can save on replacement costs as well. Plus, with Lonyung Supplier, you can trust that you are getting a top-quality product that will exceed your expectations. Whether you are lighting up a warehouse, office space, or retail store, up to 140+ LPW efficiency lights are the way to go. Illuminate your space while saving money in the process – it's a win-win situation!
3. Brighten Your Workspace: Ideal Offices, Retail, and Commercial Uses
A workspace can have a significant impact on productivity and creativity. That's why it's essential to create an environment that's conducive to work and innovation. One way to achieve this is by incorporating LED linear lights in offices, retail spaces, and commercial uses. These modern and sleek lights can brighten up any workspace, providing ample lighting that is energy-efficient and cost-effective. LED linear lights are designed to distribute light evenly and reduce glare, making them ideal for workplaces that require a lot of screen time. With their innovative design and functionality, LED linear lights can transform any space into a dynamic and inspiring workspace. So if you're looking to brighten up your workspace, consider incorporating LED linear lights into your design today!
LED linear lights are quickly becoming the go-to choice for powerful energy savings and modern lighting solutions. With up to 140+ LPW efficiency, these lights are able to achieve maximum performance with minimal energy consumption, providing users with superior illumination that is far brighter than traditional fluorescent bulbs. This makes LED linear lights ideal for office spaces, retail stores, and other commercial applications. Offering a simple installation process and an array of customizable features, these lights can be easily adapted to meet your individual needs while still staying within budget. If you're looking for efficient lighting solutions that offer a quick return on investment, then LED linear lighting is an ideal choice. So start looking today: contact your local Lonyung Supplier and explore all the possibilities that await you with this reliable product!
Hinterlasse eine Antwort
Ihre E-Mail-Adresse wird nicht veröffentlicht. Erforderliche Felder sind markiert. *